Applying molecular and systems modeling to drug discovery and development
Identifying and validating novel therapeutic targets for infectious, immune mediated and chronic inflammatory/metabolic diseases.
Testing the mechanism of action, efficacy and safety of new compounds in animal models of disease.
Conducting human clinical trials to validate the results of animal models.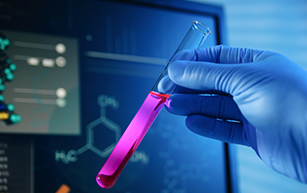 The NIMML has established an extensible innovation pipeline for developing safer and more effective therapeutics for immune-mediated, infectious and chronic inflammatory diseases.
Developing host-targeted, broad-based therapeutics for respiratory and enteric infections
Characterizing the mechanisms of action of host-targeted therapeutics
Examining the modulation of innate and immune responses to flu by LANCL2
The NIMML has identified novel naturally occurring compounds that modulate host immune responses during influenza virus infection. We characterized their molecular target and mechanism of action involving activation of the lanthionine synthetase C-like 2 pathway
The NIMML Institute is actively involved in economic development and job creation. We offer a diverse portfolio of patents and intellectual property and seek to establish key strategic alliances with pharma and biotech companies, which will help us to translate our new scientific breakthroughs from the laboratory bench to the global market.
Companies in the NIMML Institute Ecosystem:
BioTherapeutics, Inc. is an emerging biotech company that synergistically combines the power of advanced computational modeling with translational experimentation to accelerate the development of novel products for precision medicine and health. For more information, please visit www.biotherapeuticsinc.com.
Landos Biopharma, Inc. is a clinical-stage biopharmaceutical company focused on the discovery and development of first-in-class oral therapeutics for patients with autoimmune diseases. Landos' lead clinical asset, BT-11, is a first-in-class, oral therapeutic that acts locally in the gastrointestinal tract for treatment of inflammatory bowel disease (IBD). The company completed Phase 1 clinical testing in 2018 and initiated global Phase 2 clinical testing of BT-11 for ulcerative colitis (UC) in 2019. Landos also has a robust pipeline of new compounds for other autoimmune diseases, several of which Landos anticipates will advance to Phase 1 clinical testing in 2020. For more information, please visit www.landosbiopharma.com.
Pervida, Inc. is an award-winning beverage company dedicated to creating and commercializing natural products with potent and proven health benefits. Pervida's flagship product–Pervida Immune, supports the immune system using a patented, all-natural source of anti-inflammatories for a healthy life. For more information, please contact us at info@pervida.net, follow us on social media: @PervidaHealth or visit www.pervida.com.