NIMML Institute to Present Novel Mechanistic Insights Related to Immunoregulatory Precision Medicine Pipeline at the 2023 AAI Annual Meeting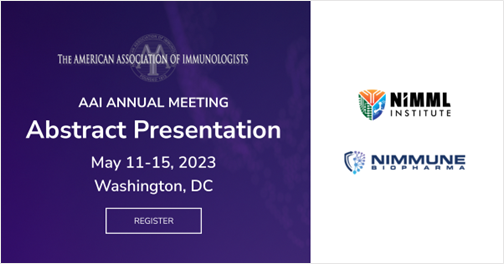 - Robust preclinical data supports breadth and growth of NIMML's autoimmune-focused precision medicine pipeline
- TITAN-X is the premier computational platform developed by NIMML aiding the discovery and development of safer and more effective therapeutics
Blacksburg, VA., May 9, 2023 - The NIMML Institute ("NIMML"), a 501 (c)(3) nonprofit public charity organization dedicated to the discovery of novel immune-mediated precision medicines, today announced that three abstracts on novel immunoregulatory precision medicine therapeutics will be presented at the upcoming American Association of Immunologists (AAI) Annual Meeting 2023. The meeting will take place from May 11-15, 2023, at the Walter E. Washington Convention Center in Washington, DC.
"Following our recent announcement of a new strategic alliance with NImmune Biopharma to leverage our TITAN-X advanced computational engine and research infrastructure for building a robust precision medicine platform that helps address unmet clinical needs, these novel immunological findings in lupus and IBD further reiterate our unwavering commitment to translating novel immunological mechanistic discoveries into safer and more effective therapeutics for patients with autoimmune diseases," said Dr. Josep Bassaganya-Riera, Founder & CEO of NImmune and Founding Director of NIMML.
"These immunological findings showcase the tremendous potential of NIMML's discovery platform and provide validation for targeting newly characterized immunoregulatory mechanisms to treat a broad range of autoimmune and infectious diseases by using selective small molecule therapeutics that can activate or inhibit such immunological targets," said Dr. Hontecillas, Director of NIMML and CSO of NImmune.
Presentations Details
Title: Activation of PHACTR2 with oral NIM-1001 treatment enhances regulatory CD4+ T cell function and provides protection from systemic lupus erythematosus.
Session title: Innovations in the Manipulation of T Cells for treating Autoimmune Diseases.
Poster: Board Number P754, Sunday May 14, 2:30 – 3:45 PM.
Block Symposium: Room 207B, Saturday May 13, 5 PM.
Phactr2 deficiency resulted in increased disease, tissue pathology, and mortality in mouse models of SLE.
Mechanistically, the loss of Phactr2 resulted in impaired Treg function.
Activation of PHACTR2 through NIM-1001 treatment in vitro increased CD25+ FOXP3+ Treg differentiation and suppressive capacity, commonly impaired in SLE patients.
Once-daily treatment with oral NIM-1001 decreased histological severity of disease in the kidney, protected against proteinuria, while increased Tregs in multiple mouse models of SLE, outperforming existing treatment modalities.
The therapeutic efficacy of NIM-1001 in SLE correlated with dose-dependent downregulation of several systemic biomarkers, including MIP1b, IL-6 and MCP1.
Title: Blockade of IL-18 signaling downregulates homing of effector CD4+ T cells to the gut mucosa and provides protection from experimental IBD.
Session title: Cytokine and Chemokine Control of Cellular Immunity.
Poster: Board Number P340, Saturday May 13, 2:30 – 3:45 PM.
Treatment of naïve CD4+ T cells with IL-18 increases production of IFN and Th1 differentiation.
IL18R1 knock out mice challenged with DSS presented decreased IFNγ- and IL17- producing CD4+ T cells in the colon and experienced lesser overall severity of colitis compared to wild type mice.
Treatment with a first-in-class, oral small-molecule inhibitor of IL-18 ameliorated disease severity and colonic histological scores, while reducing Th1 cells and neutrophils in mouse models of colitis, suggesting that inhibition of IL-18 provides protection from IBD.
Title: Host metabolic reprogramming ameliorates disease severity and colitis during Clostridioides difficile infection.
Session title: Barrier Inflammation and Repair.
Poster: Board Number P419, Friday May 12, 2:30 – 3:45 PM.
Block Symposium: Room 207A, Saturday May 13, 2:15 PM.
Using NIMML's TITAN-X platform, we performed a comprehensive global transcriptomic and metabolic analysis of host metabolic responses with therapeutic potential from colonic tissue of mice with C. difficile infection (CDI).
CDI resulted in a biphasic metabolic profile in colonic tissue, characterized by increased glycolysis during the acute, tissue-damaging inflammatory phase, while oxidative metabolism and anti-inflammatory responses were enhanced during the recovery and tissue healing phase.
The blockade of glycolytic pathways by using small molecule inhibitors ameliorated disease severity and colitis in a mouse model of CDI while protecting epithelial barrier integrity upon exposure to C. difficile toxins and reducing inflammatory mediators.
The presentation will be available under the "Publications" section of the NIMML's website at www.nimml.org.
About NIMML
The NIMML Institute is a 501 (c) (3) non-profit foundation focused on applying transdisciplinary, team-science approaches to precision medicine. The NIMML Institute applies its TITAN-X advanced A.I. platform to large-scale transdisciplinary projects aimed at solving important public health problems through precision medicine. NIMML combines the expertise of immunologists, computational biologists, toxicologists, computational modelers, translational and clinical researchers, and molecular biologists to translate novel scientific discoveries into medicines for human diseases. The Institute is headquartered in Blacksburg, VA. For more information, please visit www.nimml.org or contact pio@nimml.org.