NIMML Launches A.I. Powered TITAN-X Platform to Accelerate Development of Precision Immunology Therapeutics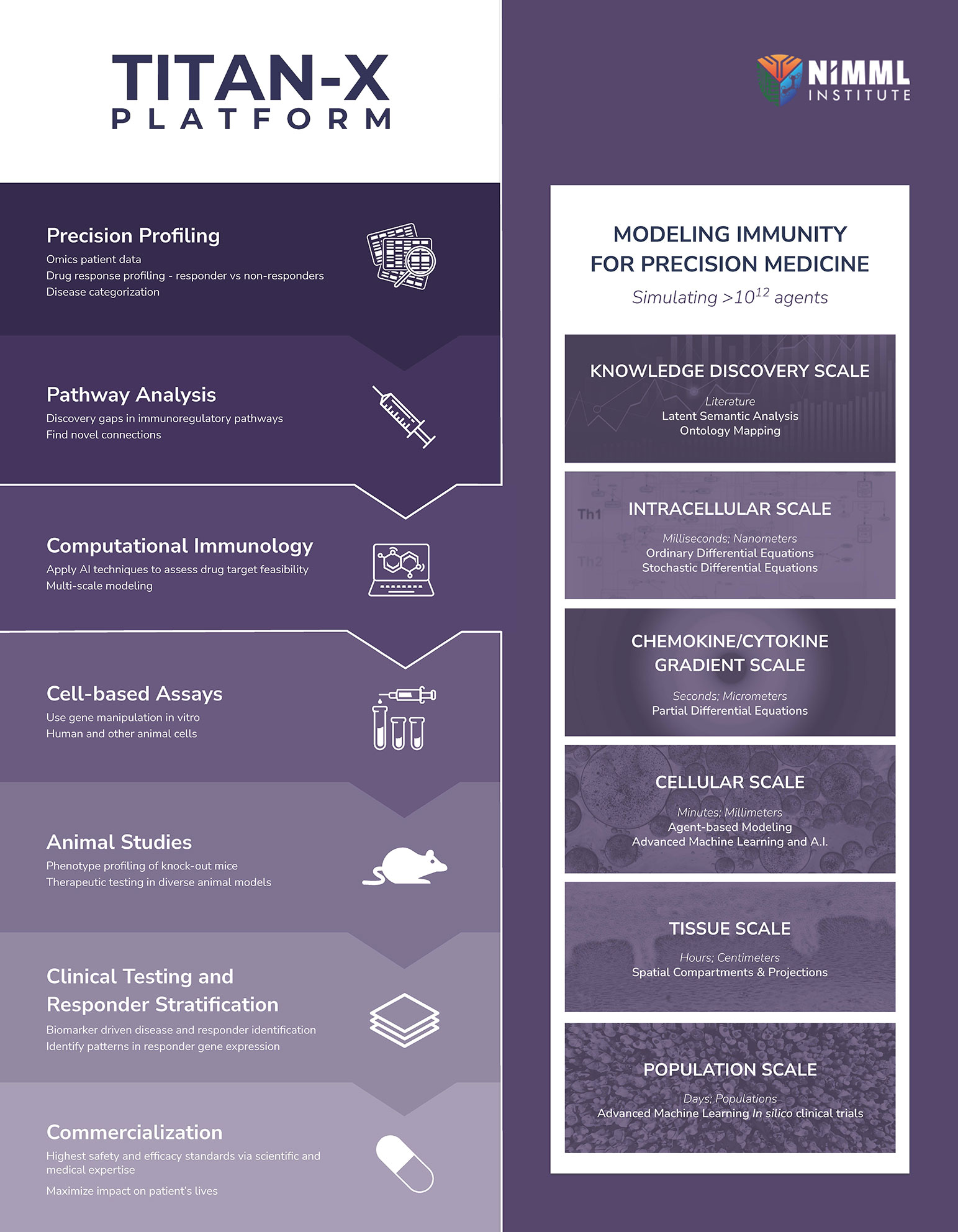 TITAN-X integrates A.I and advanced multi-scale modeling of immunometabolism for accelerated therapeutic development
Empowers the development of biomarker-driven precision immunology therapeutics for autoimmune diseases
Blacksburg, VA., June 20th, 2023 – The NIMML Institute ("NIMML"), a 501 (c) (3) non-profit foundation focused on applying transdisciplinary, team-science approaches to precision medicine, today announced the launch of its TITAN-X Drug Development Platform (the "TITAN-X Platform"). Powered by A.I., advanced computational capabilities and bioinformatics tools, the TITAN-X Platform provides innovative solutions for precision immunology drug development.
"We are thrilled to announce the launch of the TITAN-X Drug Development Platform, which combines advanced computational modeling, bioinformatics, and A.I. to accelerate immunoregulatory drug development", said Dr. Josep Bassaganya-Riera, President of NIMML. "By optimizing the drug development process with the TITAN-X Platform from target discovery to filing a New Drug Application for drugs with novel mechanisms of action, we aim to reduce costs, enhance clinical success rates, de-risk our product candidates and ultimately expedite the delivery of safer and more effective therapies for patients with unmet clinical needs."
Building upon NIMML's expertise in engineering large-scale computational models and tools designed to study immunity as a massively and dynamically interacting system, the TITAN-X Platform integrates each step from new target discovery to enabling precision medicine clinical drug development. The TITAN-X Platform combines advanced A.I. methodologies, bioinformatics, and multiscale modeling of immunological datasets to tailor immunoregulatory therapy development for maximizing efficacy and minimizing adverse side effects to address the unmet clinical needs of patients with autoimmune diseases.
Following bioinformatic analysis of differentially expressed genes from patient biopsy specimens, the TITAN-X Platform can identify transcriptional predictive signatures by using its advanced A.I. algorithms. By analyzing gene expression patterns and integrating clinical data, the TITAN-X Platform identifies responder patterns, facilitating precision immunology approaches for drug development. This ensures that patients receive therapies that are most likely to benefit them according to their unique genetic signatures and clinical profiles.
The TITAN-X Platform synergistically enhances NIMML's following advanced computational capabilities, amplifying their potential impact in precision immunology drug development:
Integration of novel mechanistic insights in the intersection of immunity and metabolism
Molecular docking-based screening and leverage computational medicinal chemistry to develop new chemical entities that bind to druggable targets
Mechanistic models of CD4+ T cells - Press Release

Treg, Th1, Th2, Th17, Th22, Tfh, Tfr cell type differentiation and function
Immunometabolic regulation of T cell function
Metabolic analysis of T cell responses

Modeling-enabled druggable target prioritization capabilities
M2 Pipeline to convert transcriptomics datasets into metabolomics simulation - Press Release
Multiscale modeling of gut mucosal immune responses with unprecedented scalability
Precision medicine-based patient stratification capabilities
Single cell and bulk global transcriptomics datasets from autoimmune disease patients
Advanced A.I. algorithms
The TITAN-X Platform has already been successfully deployed to identify novel therapeutic targets in a research collaboration with NImmune Biopharma, a late-clinical-stage precision immunology biopharmaceutical company, to support the development of late clinical stage biomarker-driven immunoregulatory therapeutics such as omilancor for inflammatory bowel diseases (IBD) and NIM-1324 for rheumatology indications. By using baseline gene expression only, the TITAN-X Platform classified ulcerative colitis (UC) patients based on likelihood to experience clinical remission following omilancor induction therapy. The predictive model generated using TITAN-X accurately classifies clinical remission status with 75% accuracy based on baseline gene expression data for both UC patients who achieved clinical remission and those that did not.
About NIMML
The NIMML Institute is a 501 (c) (3) non-profit foundation focused on applying transdisciplinary, team-science approaches to precision medicine. The NIMML Institute applies its TITAN-X advanced A.I. platform to large-scale transdisciplinary projects aimed at solving important public health problems through precision medicine. NIMML combines the expertise of immunologists, computational biologists, toxicologists, computational modelers, translational and clinical researchers, and molecular biologists to translate novel scientific discoveries into medicines for human diseases. The Institute is headquartered in Blacksburg, VA. For more information, please visit www.nimml.org or contact pio@nimml.org.
About Omilancor
By activating the LANCL2 pathway and modulating the interactions between immunological and metabolic signals in immune and epithelial cells, omilancor is a first-in-class, oral, once-daily, gut restricted therapeutic designed to create a favorable regulatory microenvironment in the gut, decreasing the production of key inflammatory mediators and increasing anti-inflammatory functions in regulatory T cells (Treg) within the site of inflammation. Omilancor has completed Phase 2 clinical testing in UC patients showing a clinical remission of 30.4% with a placebo-adjusted 12-week clinical remission rate of 26.7% (p=0.01) for the 440 mg dose. Following demonstration of a statistically significant approvable primary endpoint for clinical remission in an approvable active disease patient population, NImmune expects to initiate a global pivotal Phase 3 program (PACIFY I and PACIFY II trials) in UC patients in the second half of 2023.
About NIM-1324
NIM-1324 is an oral, systemically distributed, small-molecule therapeutic candidate which activates LANCL2, a surface membrane-associated receptor that is responsible for modulating key cellular and molecular changes tied to autoimmune diseases. By activating the LANCL2 pathway, NIM-1324 increases the anti-inflammatory capacity and stability of regulatory CD4+ T cells while also supporting the metabolic demands of autophagy in phagocytes. To date, treatment with NIM-1324 has reduced the production of interferon alpha in human peripheral blood mononuclear cells (PBMCs) from systemic lupus erythematosus (SLE) patients and provided protection from clinical disease and tissue pathology in mouse models of lupus and rheumatoid arthritis. Phase 2-ready NIM-1324 completed Phase 1 clinical testing where it met all endpoints and demonstrated a dose proportional change in plasma exposure within the therapeutic range with no accumulation.