The NIMML Institute Announces Publication of a Study in Inflammatory Bowel Diseases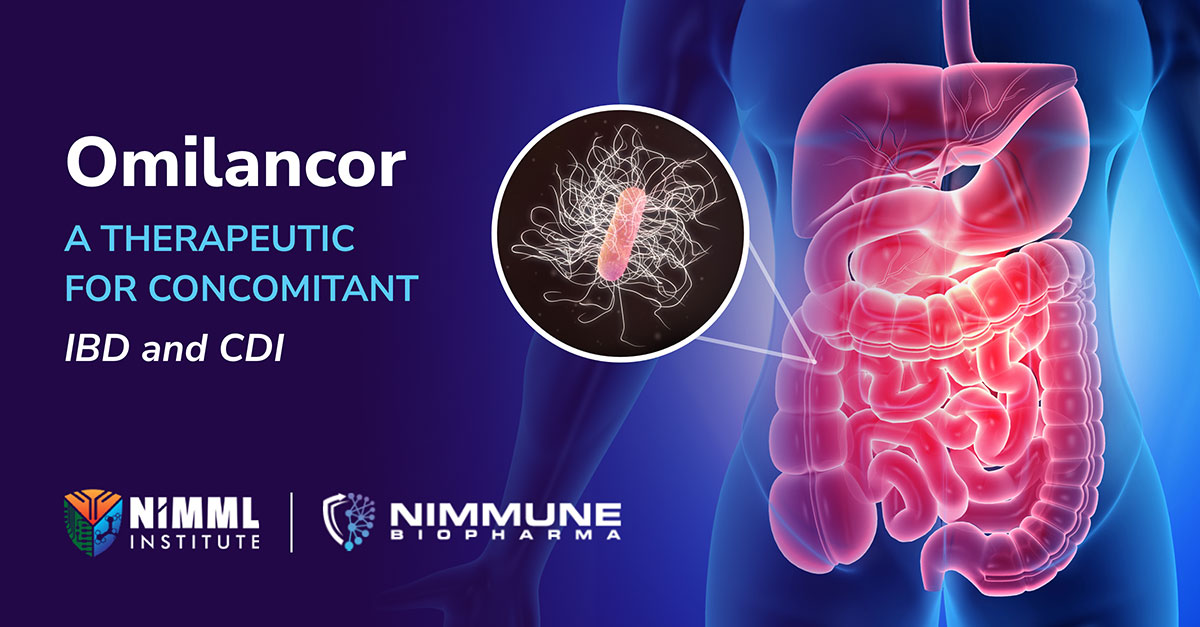 Study focused on the therapeutic efficacy of omilancor in a concomitant model of inflammatory bowel disease and Clostridioides difficile infection
New findings support the clinical development of oral omilancor as host-centered LANCL2-targeting therapeutic for patients with concomitant C. difficile infection and IBD
Results show that novel immunoregulatory mechanisms of omilancor in the colonic mucosa increased the abundance and diversity of the beneficial commensal gut microbiome
Blacksburg, VA., July 13, 2023 – The NIMML Institute ("NIMML"), a 501 (c) (3) nonprofit foundation dedicated to the discovery of novel immune-mediated precision medicines, has announced the publication of a seminal article that demonstrates the efficacy of oral omilancor, a first-in-class small molecule therapeutic in late development for UC and CD, to treat C. difficile infection (CDI) in inflammatory bowel disease (IBD). These novel findings were published in a recent issue of Inflammatory Bowel Diseases ("IBD Journal").
"IBD patients suffering from CDI currently have limited therapeutic options given the unfavorable safety profile tied to mechanisms of action with known toxicities and systemic immunosuppression of most IBD drugs currently available," said Dr. Raquel Hontecillas, Chief Scientific Officer of The NIMML Institute and corresponding author of the study. "IBD patients have increased incidence of CDI, disease severity and worsening outcomes, including mortality. Our recent publication demonstrates that oral omilancor treatment provides protection from disease and pathology during concomitant IBD and CDI, placing omilancor in a unique position, with the potential to ameliorate CDI in IBD patients without increasing the severity or risk of IBD flares and enhancing clinical remission."
For the first time, this study demonstrates that pharmacological activation of the LANCL2 pathway via omilancor ameliorates disease severity and mortality, while accelerating C. difficile clearance via a host-mediated approach. Oral omilancor treatment enhances the function of Tregs implicated in mucosal healing while suppressing pathogenic tissue damaging Th17 responses and neutrophilic infiltration at the colonic mucosa. Omilancor treatment also provides protection against C. difficile toxic damage, preventing the loss of epithelial barrier function and epithelium inflammation.
C. difficile infection and recurrence are tightly associated with gut microbiome dysbiosis, commonly due to antibiotic treatment. Reduced gut microbiome diversity also occurs in IBD patients, contributing to the higher CDI rates in these patients, which have limited treatment options. Oral omilancor treatment promotes mucosal immunoregulatory responses that enhance the diversity of gut microbiome and the relative abundance of commensal strains that inhibit C. difficile growth. Oral omilancor treatment accelerates C. difficile clearance and tissue resolution in IBD by restoring gut microbiome diversity and inducing protective immunoregulatory responses.
The NIMML Institute has an extensive track record characterizing host responses against enteric pathogens, and in particular C. difficile, initially under the Modeling Immunity for Biodefense program, and significant experience inthe identification and characterization of LANCL2 as a novel therapeutic target for autoimmune and infectious diseases. Several seminal publications have leveraged computational modeling in combination with clinical and translational research to characterize the novel mechanism of action and drive the development path of omilancor. A paper published in Artificial Intelligence in Medicine details a computational pipeline that combines mechanistic models with stochastic simulation and machine-learning methods to predict efficacy of treatments against CDI. This study reported for the first time the therapeutic potential of the LANCL2 pathway during CDI. In a recent paper published in Nature Systems Biology and Applications, NIMML characterized the CD4+ T cell response during CDI, using a computational model of CD4+ T cell immune signaling and metabolism, and demonstrated that LANCL2 activation enhanced mucosal regulatory responses while reducing effector mechanisms and promoting metabolic changes that favor regulatory T cells (Tregs). The development of omilancor as an oral, once-daily, gut-restricted, first-in-class, immunoregulatory therapeutic has been described in publications in The Journal of Medicinal Chemistry, IBD Journal and The Journal of Immunology. Other publications in the International Journal of Toxicology and IBD Journal have described the safety and unique pharmacokinetics profile of omilancor.
About NIMML
The NIMML Institute is a 501 (c) (3) non-profit foundation focused on applying transdisciplinary, team-science approaches to precision medicine. The NIMML Institute applies its TITAN-X advanced A.I. platform to large-scale transdisciplinary projects aimed at solving important public health problems through precision medicine. NIMML combines the expertise of immunologists, computational biologists, toxicologists, computational modelers, translational and clinical researchers, and molecular biologists to translate novel scientific discoveries into medicines for human diseases. The Institute is headquartered in Blacksburg, VA. For more information, please visit www.nimml.org or contact pio@nimml.org.
About Omilancor
By activating the LANCL2 pathway and modulating the interactions between immunological and metabolic signals in immune and epithelial cells, omilancor is a first-in-class, oral, once-daily, gut restricted therapeutic designed to create a favorable regulatory microenvironment in the gut, decreasing the production of key inflammatory mediators and increasing anti-inflammatory functions in regulatory T cells (Treg) within the site of inflammation. Omilancor has completed Phase 2 clinical testing in UC patients showing a clinical remission of 30.4% with a placebo-adjusted 12-week clinical remission rate of 26.7% (p=0.01) for the 440 mg dose. Following demonstration of a statistically significant approvable primary endpoint for clinical remission in an approvable active disease patient population, NImmune Biopharma, a late-clinical-stage precision immunology biopharmaceutical company that develops novel biomarker-driven immunoregulatory therapeutics, expects to initiate a global pivotal Phase 3 program (PACIFY I and PACIFY II trials) in UC patients in the second half of 2023.