The NIMML Institute leverages system-wide analyses of host responses to Helicobacter pylori to develop a new platform for immunoregulatory target discovery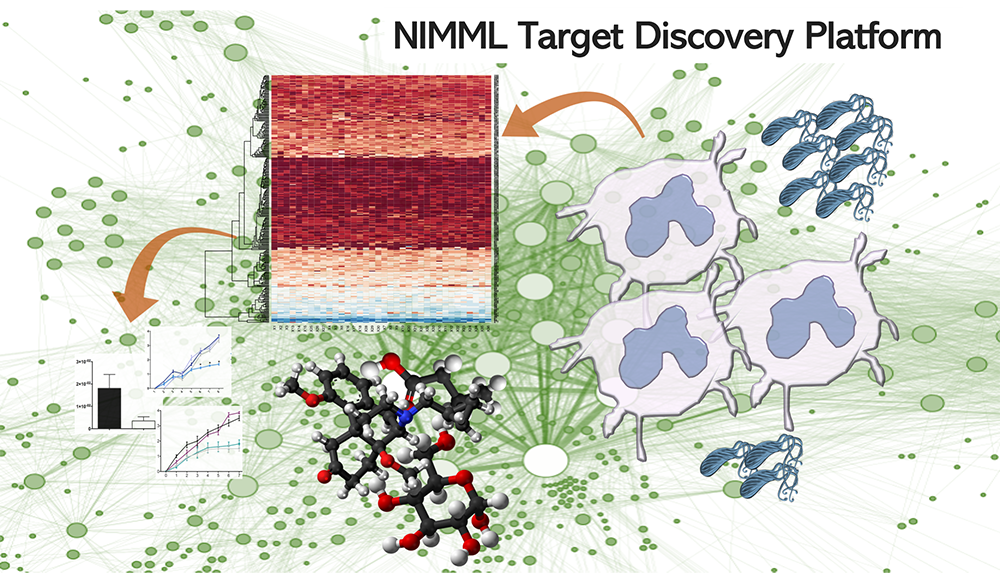 The NIMML Institute has developed a novel platform that integrates an Helicobacter pylori ex vivo macrophage co-culture with global transcriptomic analysis for the discovery of putative candidate host genes with regulatory function. The findings have been recently published in Scientific Reports.
H. pylori is the dominant member of the gastric microbiota and has been associated with an increased risk of gastric cancer and peptic ulcers in adults. The ability of H. pylori to induce strong immunoregulatory responses is crucial for its life-long persistence within the human host. Previously, we demonstrated that macrophages in the stomach are crucial for the initiation of immunoregulatory responses as we describe in a previous study published by NIMML in the Journal of Immunology.
This study leveraged the potent regulatory mechanisms induced by H. pylori to discover novel host immunoregulatory genes. We performed a time-course in vitro infection of bone marrow-derived macrophages with live H. pylori to generate high resolution RNAseq data. The experiment was performed with wild type and cells that were made deficient in modulating the expression of regulatory genes by deleting the immunometabolic transcription factor peroxisome proliferator-activated receptor-gamma (PPARg), which is required for full expression of an M2 anti-inflammatory macrophage phenotype. By using this novel system, we functionally substracted the ability of macrophages to induce a regulatory response following infection with H. pylori. We performed a comprehensive, systems-wide comparison of the expression of pro-inflammatory and regulatory genes in WT and PPARg-deficient macrophages. We then compared the pattern of expression of genes with known regulatory function in WT and PPARg-deficient cells to identify novel genes based on similar patterns of expression.
"The system was designed based on the idea that the expression of genes that participate in the host response is highly coordinated, and thus genes with overlapping functions, like those with regulatory roles are part of a connected network and expressed simultaneously. Our results show that H. pylori replication occurs in macrophages while regulatory genes are being expressed; and that the bacterium is eliminated when the anti-bacterial and inflammatory response dominates," said Dr. Raquel Hontecillas, Co-director & CSO of the NIMML Institute. "Our novel target discovery platform enabled the quick identification of 5 promising immunoregulatory candidates of which Plexin Domain Containing 2 showed the most promising results following in vivo validation in knockout mice."
Autoimmune and inflammatory diseases encompass a heterogeneous group of pathologies with increased prevalence and high impact on patient quality of life. Current therapies have limited efficacy and significant side effects. Therefore, there is an unmet medical need to develop safer and more effective therapeutics.
"This new publication builds upon our distinctively pioneering work at the interface of advanced computational methods such as AI and immunology experimentation to establish a new discovery platform. The new platform represents a unique and differentiated system that integrates bioinformatics analysis of host responses to H. pylori and systems biology approaches for identifying novel therapeutic candidates for infectious and autoimmune diseases," said Dr. Josep Bassaganya-Riera, President and Founding Director of the NIMML Institute. "I am pleased that the NIMML Institute continues to carry the successful legacy of the Virginia Bioinformatics Institute by applying fundamental scientific breakthroughs in infectious diseases to addressing the unmet clinical needs of millions of patients worldwide."
Related Press Releases:
The NIMML Institute Builds Upon the Successful Legacy of Transdisciplinary Science and Entrepreneurship of the Virginia Bioinformatics Institute
Anti-inflammatory Mechanism of Host-Microbiota Cooperation Mediated by Helicobacter pylori
Transdisciplinary Research Fuels NIMML Innovation
New Insights on NLRX1 as a New Therapeutic Target for IBD
LANCL2: A Novel Therapeutic Target for Influenza
Advanced Computational Modeling of the Gut for Biodefense
About NIMML
The NIMML Institute is a 501 (c) (3) non-profit public charity foundation focused on a transdisciplinary, team-science approach to precision medicine at the interface of immunology, inflammation, and metabolism. The NIMML Institute team has led numerous large-scale transdisciplinary projects and is dedicated to solving important societal problems by combining the expertise of immunologists, computational biologists, toxicologists, modelers, translational researchers, and molecular biologists. The Institute is headquartered in Blacksburg, VA. For more information, please visit www.nimml.org or contact pio@nimml.org.